Free Animated Analysis SWOT Template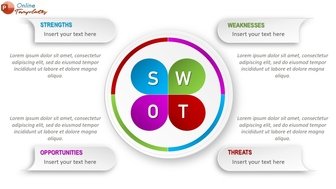 To evaluate a project, business venture or an enterprise on the whole you need to perform a SWOT analysis. If you require making a SWOT analysis presentation, then what you need is this just made PowerPoint Template. SWOT stands for Strengths, Weaknesses, Opportunities, and Threats. This animated SWOT free PowerPoint Template provides one editable slide to help you create a SWOT analysis for your company or business venture.
This Animated Free SWOT PowerPoint Template is a simple presentation template that you may download to show a SWOT analysis using PowerPoint.
Make Incredible Slides in your presentations
This SWOT template contains one creative slide design for SWOT Analysis including a SWOT Matrix design. You can use this animated SWOT analysis concept to make less boring slides.
Video tutorial SWOT animated slide
In this tutorial, I'm going to show you step by step how you can make an awesome animated SWOT slide with editable text that you can modifiy or place anywhere you wish.
You can realize that in few minutes you will get professional results and will give you new ideas just to implement new templates in powerpoint modifying this one.
Also you can download the final result if you wish to use it just now.
As always we are providing this premium quality PowerPoint for free of any cost. Just click on the download button and you are ready to use this creative animation. Don't forget to subscribe in our YouTube Channel .

IMPORTANT❗
This free template is for personal use only and is ⛔NON-DISTRUBUTABLE/NON-PUBLISHABLE/NON-COMERCIAL.